Punjab Tandoori is one of the best Indian Restaurants in Oslo. If you´re looking for traditional Indian food for an affordable price, Punjab Tandoori is the place for you.
Punjab Tandooris long history began in 1999, when Harinder Singh and Kiran Jot opened the restaurant at Grønland.
Their own family in India has been in the restaurant industry for over 100 years. Punjab Tandoori at Grønland soon became a well known Indian Restaurant in Oslo and a popular choice among anyone looking for affordable and amazing food from India.
In 2018, the Singh-family opened another Indian Restaurant in Oslo – Punjab Tandoori in Hausmannsgate. The following year, they also opened the Street Food restaurant Theka, which since then has received great reviews – both from food critics and guests.

We offer both table service and take away at our Indian restaurant. Ever since we started the restaurant in Grønland, we have aimed to be the perfect place for real Indian food with good and reasonable prices with a short waiting time.
Indian Food – a World of Spices
Indian culture and Indian food has a long history and is one of the most popular cuisines around the world today. Indian food is especially known for its wide variety of spices.
The Indians use a lot of spices, not only to make the food taste better but also because of their healing properties. For instance, turmeric is known for its anti-inflammatory effect and ginger is known to relieve nausea and indigestion.
Food from India is also known for its creamy sauces, tender pieces of different meat, and a side dish like papadum and naan.
Tasty street food dishes
Street food is a relatively new concept in this country, but in India street food has a long history. In the largest cities in India you will find stalls and restaurants offering street food everywhere, and in Mumbai alone there are around half a million food stalls selling street food.
Street food is small, tasty dishes that are meant to be eaten immediately. With us you will also find many good vegetarian dishes with a good choice of vegetables and fantastic spice.
Explore Authentic Indian Food at Punjab Tandoori
At Punjab Tandoori, you can taste some of the world's most popular dishes from Indian cuisine. Our dishes are 100 percent authentic, and some of them are based on recipes that have been used for many generations.

We want to show that completely authentic and good Indian food does not need to have a crazy cost. With Punjab Tandoori you can have Indian food including rice, salad and drinks, all for less than 200 kroner. Our menu is made up of the best and the list is long with dishes that are full of exciting flavors from India and indian street food.
Here are some of the most popular main dishes you can find on our menu:
Chicken Curry
Chicken Curry is one of the most popular dishes from India. It consists of tender pieces of chicken stewed in a delicious sauce based on tomato and onion. At Punjab Tandoori, you can try this authentic Indian meal for only 95 kr.
Chicken Tikka Masala
Tikka Masala is a british-indian meal that consists of pieces of chicken in a thick, creamy sauce. The sauce has a lot of spice with a taste of tomato, garlic and chili. Try this classic Tikka Masala for only 130 kroner at Punjab Tandoori.
Tandoori Chicken
Tandoori Chicken is a hot and amazing dish full of spicy flavors. It consists of pieces of marinated pieces of chicken grilled in a traditional, Indian tandoor. Don't miss this delicious meal when you visit Punjab Tandoori!
Butter Chicken
Butter Chicken is another favorite that consists of pieces of chicken marinated in yogurt in a creamy sauce. The sauce is hot and spicy with a taste of butter, tomato and almonds. Try it with our mango lassi drink for a real Indian experience.
Lamb Korma
Try Korma with chicken or lamb for a reasonable price at Punjab Tandoori. This is a mild and creamy meal with a taste of coconut, spices and yogurt.
All of our dishes are served with rice, naan and salad. You can also order popular side dishes like papadum or gulab jamun for dessert. We offer authentic Indian food for an affordable price, with hardly any waiting time. See our whole menu here.
Read more: Restaurant Grønland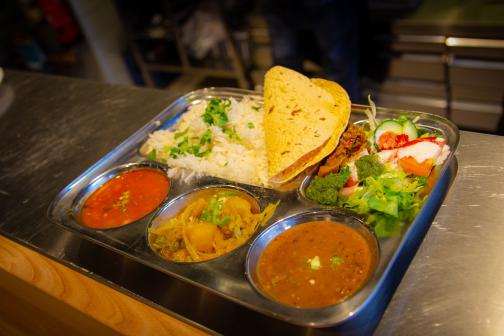 Enjoy our Delicious Indian Food at Home
If you would like to try great food in the comfort of your own home, we also offer take away. You can either order our dishes through Foodora and have good food delivered at your door or order pick-up from one of our restaurants.
Welcome to Punjab Tandoori!
If you want to eat delicious food for a great price, book a table or order take away from Punjab Tandoori today.
Our restaurant is a cozy place to visit and is the perfect choice if you want delicious and super tasty food, a fast served meal and an informal dinner with friends or spicy Indian food in your living room. Treat your taste buds with the best Indian food today at our restaurant.
Our phone number is 22 17 20 86. If you would like to book a table, you can also e-mail us at punjab_tandoori@hotmail.com. Punjab Tandoori is the best Indian Restaurant when you're looking for amazing service, excellent Indian food and reasonable prices.

Our restaurant is centrally located in the city center at Grønland 24, 0188 Oslo, Norway.
Welcome to Punjab Tandoori, your Indian restaurant in Oslo!
Contact us
https://punjabtandoori.no/wp-content/uploads/2021/04/main.jpg
608
1200
admin
https://punjabtandori.wpengine.com/wp-content/uploads/2021/05/Logo-1-300x94.png
admin
2021-05-04 07:22:07
2022-06-15 13:40:58
Indian Restaurant Oslo